KARTING CIRCUIT FOR ADULTS IN MADRID
OUR PRICES AND OFFERS FOR KARTS IN MADRID
Karting:
1 batch (10'): 18€
2 batches (20'): 29€
3 batches (30'): 37€
Grand Prix Tournament (Practice Phase 10' + Qualifying Phase 10' +
Grand Final 12 rounds):
Between 8 and 14 people: 55€/person.
Between 15 and 20 people: 50€/person.
More than 21 people: 45€/person.
Royal Experience:
| | |
| --- | --- |
| PACK Acces 1 | PACK Standard 2 |
| Welcome and Reception | Welcome and Reception |
| Hospitality Zone Access | Hospitality Zone Access |
| Briefing | Briefing |
| Batak Training | Session 1 |
| 6 laps Driving | Batak Training |
| 2 laps Co-driving | 6 laps Driving |
| Duration approx. 40 minutes | Session 2 |
| PVP: 79€ | 2 laps co-piloting |
| | 4 laps Pilotage |
| | Duration approx. 55 minutes |
| | PVP: 109€ |
Combo packs:
Airsoft 800 balls + Karts 1 batch 10': 53€.
Airsoft 800 balls + Karts 2 batches of 10' each: 64€.
Cavernarium + Karts 1 batch 10': 45€.
Cavernarium + Karts 2 rounds of 10' each: 56€.
Yellow Humor + Karts 1 batch 10': 50€.
Yellow Humor + Karts 2 batches of 10' each: € 61.
Paintball 200 balls + Karts 1 batch 10': 42€.
Paintball 200 balls + Karts 2 batches of 10' each: 53€.
WHAT ARE OUR KARTS IN MADRID AND HOW DO THEY WORK?
The Karts:
If you want to enjoy the adrenaline of karting you can not miss our
karts in Madrid. We have modern karts of the Sodikart brand, with
270cc engine. that yields 9.5 hp of power. They include all kinds of
advances in safety, such as shock absorption system, seat belt and
anti-roll arch.
In addition, being large or small is not a problem, since the position
of the seat and pedals is fully adjustable.
WHY OUR KART CIRCUIT IN MADRID?
The Track:
We have an outdoor circuit in Madrid of more than 500 meters of
rope and minimum width of 4 meters and maximum of 8. Recently
asphalted, it guarantees unbeatable grip and rolling quality. For the
recording of times we have installed a professional timing system -
the same one that we have installed in the Competition Circuit- and,
for those days that are extended, we have total lighting of the
facilities.
The Waiting Area on the Track:
For the companions, or for those who are simply taking a break
between so many and batches, we have a spectacular terrace of
300m2 overlooking the pits and the entire circuit. Lawn, chairs and
tables, umbrellas, ambient music...
WHAT IS AERORACE 180CV.?
It is the new driving experience of the Jarama Circuit in Madrid; a
true tribute to the 60s in which you can get out of your usual limits
driving and sliding with our Westfield AeroRace, cars of 180 HP and
450 kg. of weight, which keep intact the essence of yesteryear: no
electronic controls and pure sensations at the wheel. Break with the
usual driving of street cars and live an experience full of challenges
where adrenaline and emotion are present.
Within a limited circuit of 6,000m2, you can enjoy 3 activities in
which, in each of them, you will have the opportunity to obtain the
best possible rating.
Whichever pack you choose, a monitor will accompany you at all
times and will explain what you need to know about the operation
and development of the activities so that you can get the most out
of them.
Within the vintage atmosphere that surrounds us, we wanted to
make a nod to the present by incorporating elements of the latest
technology to improve your driving while having fun.
CRAZY CART:
Incredibly addictive, they will allow you to feel the most fun sliding
driving.
With it you will improve your dexterity and coordination between
steering wheel and accelerator.
BATAK:
The Batak, the machine used by F1 drivers to train reaction capacity
or the Crazy Carts XL, mini electric cars that exercise you in sliding
driving, are perfect to balance coordination and precision for driving
the Westfield AeroRace.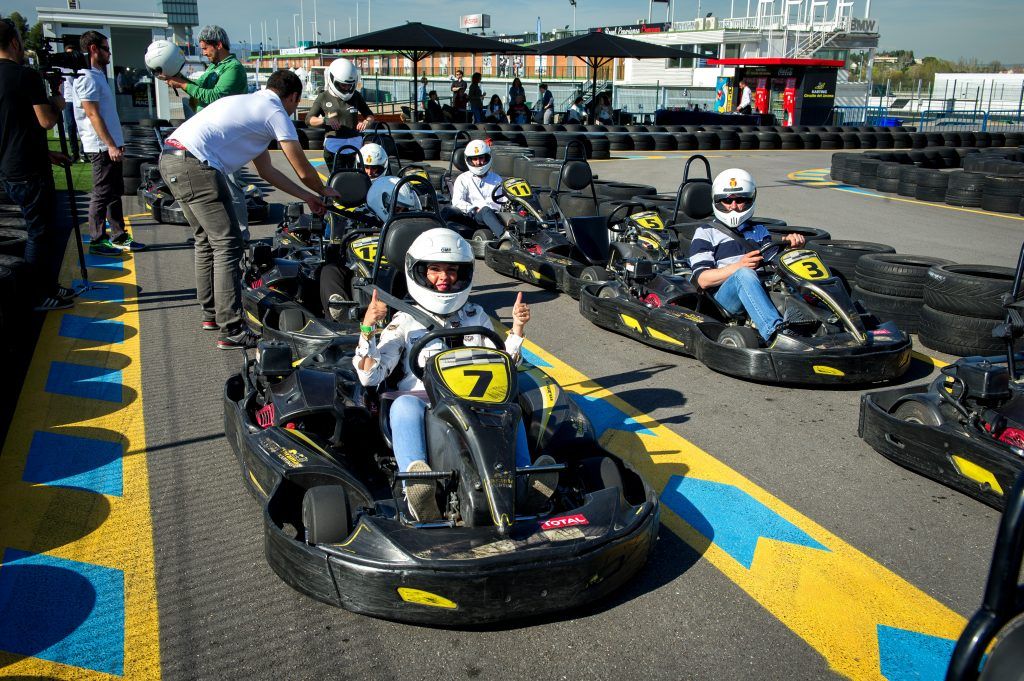 HOW DO WE ORGANIZE KART SHIFTS?
KARTING AND AERORACE:
When the group arrives, a helmet will be provided to each one and
instructions.
Karting:
The duration is 10 min. per batch.
It is also possible to organize this activity in its Grand Prix
Tournament modality.
AeroRace:
Depending on the pack chosen, the duration is 40 or 55 minutes.
Keep in mind that we have to be 20 min. before the start time
contracted for the briefing.
WHAT EQUIPMENT DO YOU NEED FOR KARTS?
Clothing and footwear: Comfortable and sporty, which allows you
mobility.
WHAT ARE THE OPENING HOURS OF OUR KARTS IN MADRID?
Karting:
Monday to Friday from 15:00 to 19:00.
Saturdays, Sundays and holidays from 10:30 to 14:00 and from 15:00
to 19:00.
AeroRace:
Friday from 16:00 to 20:00.
Saturdays and Sundays from 10:00 to 20:00.
Opening hours for companies: consult.
There is the possibility of opening under reservation at other times
and from Tuesday to Thursday. Ask us and we will start it.
Important: The schedule may be modified due to reservations or
events. It is recommended to confirm availability by phone.
OTHER ACTIVITIES AND MENUS?
You can combine karting with other activities as well as with our menus in our facilities in Colmenar Viejo or Tres Cantos:
Paintball
Airsoft
Cavernarium
Láser Combat
Bubble Soccer
Yellow Humor
Survival
Excalibur Adventure
The Hunger Games
Escape Narcos
Gymkana GPS
In our bar with cafeteria you can have a drink and enjoy the completely natural environment of the mountains of Madrid sitting in our terrace areas or in the heated indoor lounge. In winter or on days when the weather requires it, the menus will be served in the indoor lounge where we have a fireplace and pellet stoves. In spring and summer the menu will be served in the covered terrace area.
Note: It is very important to inform us if any of the guests have any food allergies.
ADVERSE WEATHER CONDITIONS?
All our karting activities are outdoors to enjoy a totally natural environment.
Rain is the only case in which we would have to change the date of the activity. It is the customer who would choose the day according to his needs and always subject to availability. You have a period of 90 days to change the date and always giving at least 24 hours notice. If you need to change the date again, the period of 90 days will always count from the date of the first reservation.
HOW TO BOOK A KARTING SESSION?